Mid-South Artist Gallery Exhibit Opens Jan 26, 2020 in Bartlett TN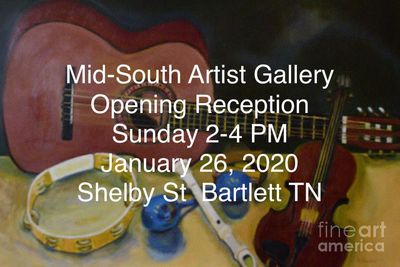 Some of my artworks will be on exhibit in a group show at the relatively new Mid-South Artist Gallery in Bartlett, TN. The opening is Sunday, Jan 26, 2020, from 2:00 to 4:00 PM at the gallery on 2945 Shelby Street off Stage Road in Bartlett. That is the street which runs between the new Bartlett City Schools building and the school. A percentage of sale proceeds goes to community outreach programs.

There is also an event on Friday evening Jan 31, at the Memphis Botanical Gardens where those with tickets can attend the Incognito fundraising exhibit.
Some of the members of Artists Link will have their work in that venue.