May 31st, 2012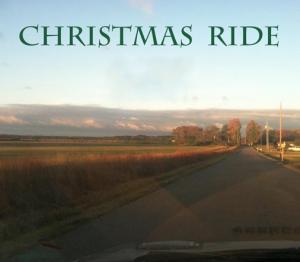 Hi, Everyone--I'm very excited to announce that the "Christmas Ride" indiegogo campaign is now up and running. Some of you have clicked through to my art videos before. This is a little different. Please go to the link, http://www.indiegogo.com/ChristmasRide
view the teaser video, leave comments, contribute if you can . . . There are lots of artistic perks to read about.



You will find a short video teaser for a film yet to be filmed, called "Christmas Ride." Indiegogo.com is a fundraising forum for film, art, music, non profits and health. Some of my print images are included in the presentation, my originals are being offered as perks for donations of a certain level, and the screenplay is about an artist's journey at Christmastime. It explores forgiveness on a dramatic journey. Please go to this link and watch the Teaser, leave Comments, and contribute if you can. Your comments will help the campaign to be featured. And share the campaign. Thanks so much.
May 28th, 2012
Veteran's Park is a place in Memphis, TN. I have tried to create a composite of one structure in the park in this panoramic, large scale work. There are other structures which I may photograph for a companion piece in the future. The other work dedicated to those who sacrificed for our country is called Gray Shadows, picturing Helmets. Here is the link for it: http://fineartamerica.com/featured/grayshadows-karen-francis.html
May 9th, 2012
A friend told me about this online art auction for a good friend of hers:

https://www.facebook.com/HeArtForBev

Bidding continues until May 10th at 7:00 pm out West to raise funds for medical expenses.
There are some lovely, very reasonable paintings in this auction.
You need to click on the Photos album and then you will see the albums marked for the auction. Leave a comment to bid or follow other instructions indicated. There are works in the auction by a number of talented artists. Subject matter includes dogs, roosters, landscapes, roses, etc.

May 4th, 2012
I use the Favorites Tab on fineartamerica to highlight other artists' work occassionally and to note the art of the season. Today I searched on Mother's Day and mother and children and found many classic works among the contemporary ones available as prints through FAA. So these four works are at the top of the images on my Favorites tab now. Below them you will find some of the May Pole that were searched and discovered on May Day. That is an activity I always thought would be fun to do. I'm glad some artists have preserved that quaint spring ritual on canvas. And one could always order some of the customizable greeting cards with any of the images on them from the online shopping cart. " Swim Lesson" the image on this blog, is my entry into the Mother and Child category. I have painted others on this theme but they are in other collections. One shows a child sitting in a mother's lap. The mother is brushing the child's hair. I have also painted a portrait on commission which included a mother and child. Happy Mother's Day.
May 1st, 2012
I am so happy to have sold two prints during the time frame of the Germantown Community Theatre April Art show. However, based on the average profit margin from a typical small print sale, I would need to sell thirty-five of them just to pay the veternarian for the medical treatments my poor little sick dog had yesterday. Reality check here. Does anyone need any graphic designs or feel in the mood to buy an ORIGINAL oil painting? When you click on the image you like, you can see the original price in the right hand column if you scroll down a bit.

May 1st, 2012
The FAA Activity feature notes how many hits particular images get. As of now, after a year on this site, of my paintings "Wild, Wild West" is at the top of the charts. Second and Third place are tied for "March of the Dolls" and "Quiet Waters Park", followed closely by "Moving On" and the "Crucifixion". By style, that would be Surreal first, Figurative and Landscape second, and followed by two Abstractions. I appreciate this feedback from visitors and the Comments.
April 10th, 2012
Art was installed today at the Germantown Community Theatre. I have lowered the prices for the original oil paintings for most of the work in this show. Sales of the originals and prints will benefit the GCT ten percent through April 29. So I am hoping that these attractive new prices will attract theatre and art lovers everywhere. Visit this link to see the works on sale now http://fineartamerica.com/profiles/karen-francis.html?tab=artworkgalleries&artworkgalleryid=147972
March 26th, 2012

Some of my works will be displayed in Germantown, TN April 9-29, 2012, in conjunction with theatrical performance of Spit Fire Grill musical at the Germantown Community Theatre. The Reception is planned for Saturday, April 21, 5 to 7 PM. Sales of these originals during the exhibition window benefit the GCT by ten percent. To see some of the works that will be in this show, visit the GCT Gallery tab from my fineartamerica page.
March 20th, 2012
Yesterday I uploaded four works to the galleries of Fine Art America on my pages. These included "Lake Day" and "Riverbend Park", both landscapes, and "Six Roses", a replica of the original oil painting, and a digital art version of it called "Vibrant Roses" with strong colors in it. These works will all post to my Facebook page automatically and the Art Promotions shopping cart on Facebook, as well as the linked shopping cart on the artpro.com webpage. I hope some people will see them and recommend them to others through sharing or Likes, or clicking Google +1 or Stumble Upon etc.
Karen Francis