March 18th, 2020
Hi,
I hope you are all feeling OK. There is a lot of news on about the spread of the Corona virus Covid 19.
Here's what cdc.gov (Center for Disease Control in America) has to say: https://www.cdc.gov/coronavirus/2019-ncov/faq.html about the source of the Corona Covid-19 virus.
Here's a URL for NIH, National Institute of Health in America, a respected medical institution: https://www.nih.gov/health-information/coronavirus
Check out the World Health Organization pages also.
Here's a link to Mayo Clinic (again, a well known, respected medical institution): https://newsnetwork.mayoclinic.org/category/covid-19/
You can copy and paste the urls as I dont think I can add active links here.
In America we are being told to use social distancing and hand washing to protect against the virus and flatten the curve of its spread.

I hope that if the delay in producing a vaccine is because of slow computers available for analyzing data, that some super fast computer will be made available to the medical professionals working on this serious problem.

My company, Art Promotions, "Paintings, Prints, & Productions" (which is just myself currently), will continue to paint, and upload prints to fineartamerica & pixels, however, for the near future, I will be curtailing filmmaking projects that involve interactions in real time with groups of more than six or travel. I am awaiting communications from fineartamerica about any other impact on art product production that their factories may potentially experience as a result of the virus, so I may let my supporters, patrons, collectors know.

Also, while people can continue to view and order products online, for the time being, until the government recommends otherwise, sale of my originals via my home studio & office is put on hold. These sales are normally by appointment only. I will not be accepting any more appointments for selection and sale of originals at my home studio until further notice. Of course, if someone has already selected a painting they really want, and pay by Pay Pal or credit card online first, then I will be happy to leave the purchased original on the front porch at a designated time for pick up by the buyer or a shipping delivery service. Just call or text me. Or write me at kfrancis427 @ gmail. com

All for now. Stay well. --Karen E. Francis


February 17th, 2020
I have created an additional version of the New Orleans fountain and am calling it Fountain of Change. I've employed some morphing and other fantasy elements to modify this digital image. Also, hope you will see the Dixon Garden Sculpture presented in Rose Quartz color effects. As always, when you shop with fineartamerica or pixels . Com, each purchase comes with a 30 day money back satisfaction guarantee.
February 7th, 2020
It's not too late to order custom greeting cards for Valentine's Day from fineartamerica.com or purchase a gift like a mug or art print for the occasion. I've updated my art listings by moving heart images to the first positions. I've also changed the channel art for my Art Promotions YouTube channel called blessings427, or blessings427 Art Promotions. And I've also noticed, FAA has now added a special image prepared for us to share through our Instagram account of each of our art works. My instagram account name is crpr21516. Instagram uploads only work through a mobile phone, last time I checked. So while you can view it on your desk top computer, or even open an account, uploads require mobile, unless it has changed recently.
February 4th, 2020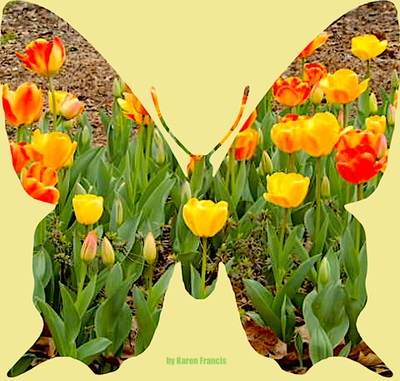 I've uploaded new works to Fine Art America recently including a couple of images of musicians which are hybrid works starting with impromptu sketches I made on toned ground during open mic nights. Those drawings were then modified with pastels and more recently photographed digitally and modified further with digital pastels and filters from art apps. Today I uploaded Promise of Spring, a photo of tulips digitally poured into the shape of a butterfly.
All works are for sale online in a variety of custom products: wall art: framed prints, posters, prints on canvas, prints on acrylic, prints on wood;
home decor: throw pillows, towels, mugs; life style items: phone covers, tote bags, onesies for babies and toddlers, t-shirts, sweatshirts; custom greeting cards, spiral notebooks and more. Each order comes with a 30 day money back satisfaction guarantee from fineartamerica.com and its sister site, pixels.com
January 22nd, 2020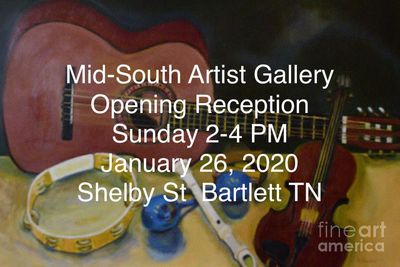 Some of my artworks will be on exhibit in a group show at the relatively new Mid-South Artist Gallery in Bartlett, TN. The opening is Sunday, Jan 26, 2020, from 2:00 to 4:00 PM at the gallery on 2945 Shelby Street off Stage Road in Bartlett. That is the street which runs between the new Bartlett City Schools building and the school. A percentage of sale proceeds goes to community outreach programs.

There is also an event on Friday evening Jan 31, at the Memphis Botanical Gardens where those with tickets can attend the Incognito fundraising exhibit.
Some of the members of Artists Link will have their work in that venue.
December 31st, 2019
Looks like I published about 23 new works to fineartamerica.com during this year, 2019. About five of them I designed as thumbnail art for the YouTube videos I uploaded to my channel called blessings427. Three were photographs of Petroglyphs I uplaoded in response to a contest call for work on this subject. Another five were graphic designs, textual in nature, somewhat like posters. One new original oil painting. And the remaining were digital works often photographic based then modified with filters and other design elements on subjects such ranging from flowers, to people, and sculpture. All of these are works are available le to the public for purchase as a variety of home decor and useful profucts. Wishing everyone a Happy New Year.
December 18th, 2019
I uploaded two new works to fineartamerica today. One is" Autumn Bouquet", a floral digital artwork, and the other is "Boy at Piano," an interior figurative Christmas scene. "Boy at Piano" is a companion piece to "March of the Dolls" an oil painting, previously on this site, featuring three girls playing in this same location in California. Hope you enjoy.
December 10th, 2019
My artpro.com domain sale finalized. This was my first website (started in the late nineties), for my company Art Promotions, "Paintings, Prints, and Productions" which began in 1989. Some of my friends and collectors will recall my struggles with building the pages. Content on artpro.com is now available on the karenefrancis.com domain, and I hope to continue posting to other various social media platforms and domains, as well like facebook.com/ChristmasRide, facebook.com/ArtPromotions, artprofilms.com,
instagram/crpr21516, youtube.com/blessings427 (videos), twitter.com/artist427 among others.

I don't really know what content the new owner of the artpro.com domain will be uploading after the first 30 days, where they are currently sharing the news of the change in domain ownership.

My authorized fine art products and prints are for sale online at http://fineartamerica.com/profiles/karen-francis and pixels. My original oil paintings may be purchased direct from me by or from the art gallery or exhibition space where my work may be showing. My work is shown by appointment only. Write via kfrancis427@gmail.com to schedule an appointment to see originals you are interested in, located in Memphis, TN.

Thank you for your continued support of my art products.